Molly's Choice, a novel by Millicent Stone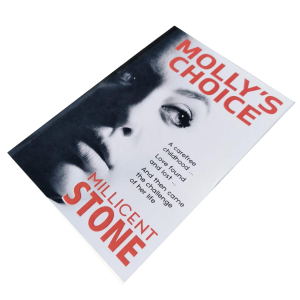 Molly's Choice is Millicent's first novel published by Three Sisters Press in Ireland.
Molly lives in her dreams. In her head she is carefree and happy, however her reality is very different. Her journey from girl to woman is real and raw. Only when her child's life is threatened does Molly find out what she's really capable of, who she truly is and how she wants to live her reality.
Molly's Choice is a commentary on the ever changing life in Irish society and a deeper look into the importance of growing up and realising one's potential. It embodies the art of living a carefree happy life without thinking about the consequences.
There are lessons for all of us in Molly's choices.
Order your copy by clicking on the dropdown list to choose your postal region.
A few signed first edition copies are still available.

Dr AP
January 2022
Congratulations on your book, I absolutely loved it and read it on my honeymoon. Your stories and your writing are excellent and inspiring.

Kurt
January 2022
I start reading your novel. It is surprising funny and something I did not define yet. At least once every chapter I have to smile. I don't know why but it makes me thinking about Alice in Wonderland, not for the story but more for the wording and the turn of the conversations.

Triona
January 2022
I am reading your book slowly…. And really enjoying it. I generally don't read…. So it's great I have your book. And because you have written it all the more important I read it! The book is definitely a 'me' type of read. So well done!!
Please leave a review of the book…